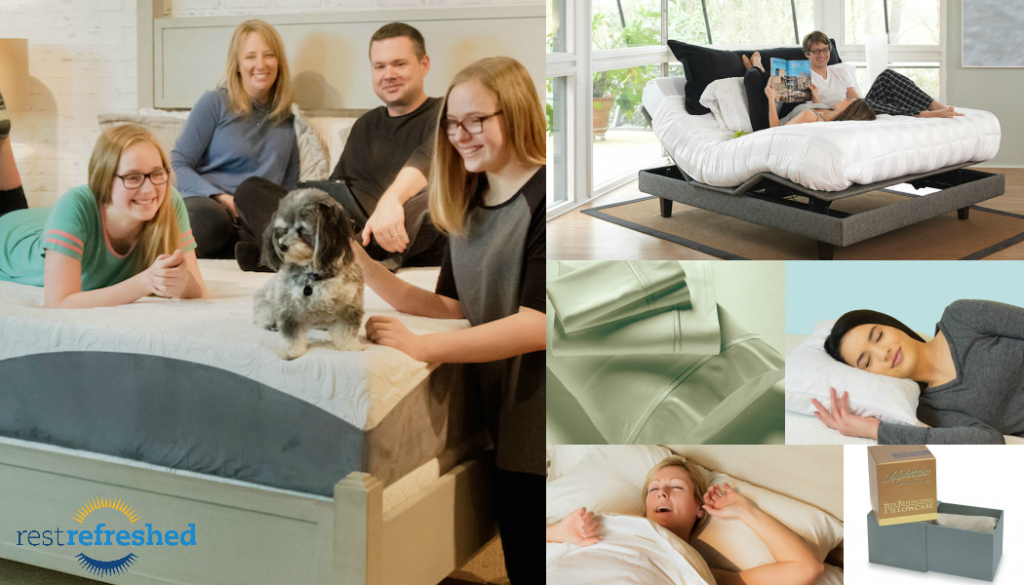 It's not just about the mattress.
We didn't start Rest Refreshed simply so we could sell you a great mattress, although we believe that purchasing the right one is fundamental to your sleep. We wanted to make it easier to understand everything that goes into getting a good night's sleep, especially when 35% of you only have fair to poor sleep quality.

It's sad but true! And some of you may have:
Trouble falling or staying asleep
Less than optimal productivity during the day
Lack of energy
Space issues due to sleeping with pets or children
Pain or discomfort when sleeping
We've been in your shoes. As we got older and life started throwing more stressors our way, we found that getting a higher quality of sleep had a direct impact on how we functioned the next day. In fact, 25% of women and 16% of men are not waking up well-rested in the past for days of sleeping.

And we felt that while there were many companies out there promoting better mattresses for sleep, few were interested in understanding all of the factors that go into good sleep…beyond the mattress.
So really, we have one, simple goal: To help you more confidently purchase a better mattress to get a higher quality of sleep. And we believe you can do it better without the hassle of a retail experience.
What qualifies us to talk to you about sleep and mattresses?
With over 30 years' experience in the furniture and bedding industry, we've seen the mattress evolve. But even as it has changed, we've always known that having the right mattress was the foundation of better sleep.
Our team understands that restful sleep provides numerous benefits to the human condition. We value good sleep – and get that for some people, it is hard to come by! That's why we've chosen to develop mattresses at affordable prices that can help all of our customers and provide necessary sleep information all in one location.
We utilize the latest construction methods, along with memory foam, micro-coil and cooling gel technology to create the perfect combination of layers in a mattress for every type of sleeper.
And aside from mattresses, we've put together an awesome combination of products to help you create your perfect sleep experience…because we know that one size does not fit all. You may be:
Health conscious
An avid exerciser
Interested in anti-aging
Pro-environment
A pain sufferer
Or you could simply be someone who simply hasn't had much luck finding a combination of sleep products that truly rocks their world. Take our Design Your Sleep Experience for a spin – and see if we can't help you create a complete environment conducive to a better night's sleep.
Important! Your Sleep IQ
We'd be remiss if we didn't spend a few minutes talking about the importance of what you need know to get better sleep. When asked these three important questions about sleep, only 36% of people answered them all correctly:
Do adults need fewer hours of sleep as they get older?
Do successful people need less sleep than the average person?
Does alcohol improve the quality of sleep?
How about you – do you know the answers? We didn't when we first started on this journey.
Beyond this, you may lack knowledge on the impact the environment, nutrition, hydration, screen time, stress, soda…and other things has on how well you sleep. You may also not understand what you can do to improve your sleep, including having a positive impact on the aging process (don't we all want that?!). So we've created a sleep library of articles and information to help you improve your sleep quality beyond your mattress and bed.
Come along on our journey
Our approach to getting a good night's sleep involves pairing the best mattress and sleep products with reliable sleep information – so that you can get the optimal sleep you deserve.
Sleep data source: https://sleepfoundation.org/sleep-health-index-2014-highlights